An intimate and exclusive hotel near Bangkok, Thailand
Along  the Tachin River


and facing a temple, your private boat
is docked on the pier's pontoon…
Our unique boat,
which adheres to all safety standards, has been exclusively designed to navigate guests up to the residence.
En route, as The Bohemian's Residence emerges from the water's edge, travellers can witness rural life, lush rice paddy fields, serene monasteries, fish farms, and authentic Thai-style wooden homes.
It is the perfect place in which to revitalise and rest, and forget for a moment the hectic modern world, whilst embracing rural Thai village life, the area's unique attractions, and the region's rich cultural heritage…a residence for lovers and dreamers.
Close to the magical city of Bangkok,
one can spot its lush and colourful gardens, and inhale its soothing aromas. This is a place for travellers seeking a quiet and peaceful locale.
After exploring the region and its sites, here one can take an invigorating and soothing dip in the saltwater swimming pool, then sit down for a leisurely lunch on the terrace. Peruse a map of the region and enjoy a cup of hot tea at a low-lying table as you spot a few egrets soaring in the sky overhead…
Intimate and exclusive, The Bohemian Residence is in itself a place to discover. Under the sala one can forget one's worries, take a fun swim or go fishing with the family or loved one, and enjoy excellent Internet connectivity. Facing the river, here sublime hospitality in a peaceful domain reigns.
Located in the heart of a small village, during certain times of the year, the locals celebrate various festivals.
Why not join in?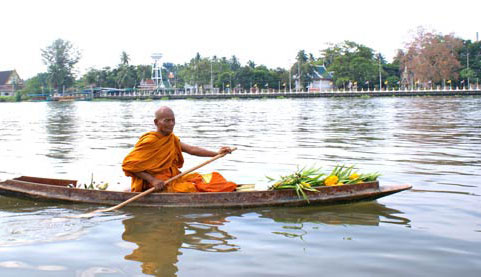 Imagine being at the edge of a river amidst a décor of distressed wood amid nature.
It is akin to having a personal window to Thai rural village life.
Welcoming hospitality in a luxurious and quiet setting…
A place to escape from it all. Enjoy a refreshing swim in your private pool, immerse in authentic Thai village life and, should you wish, step out to discover the unique sites nearby…